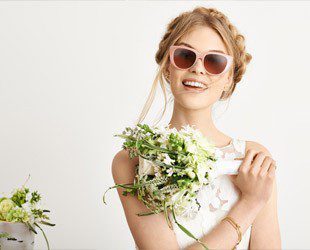 Doing a research will leave you and your floral designer happy! If you've been pinning gorgeous bouquets and intricate centerpieces for years, you're probably the type of bride who's put a lot of thought into her wedding flowers. But there are still a few things you need to know before making the floral decisions for your wedding. Here are some tips that wedding florists would like you to keep in mind before your big day!
Season matters.
If you ask for anemones in July or calla lilies in November, it's going to run your bill way, way up. Look for flowers that will be blooming naturally around your wedding date, and stay flexible on the exact breed of flower.
Not all florists are the same.
When finding a florist, ask questions about delivery services, how far before your wedding the bouquets will be created, and if they provide other services (linen rentals, candles, lightning, table number, etc.)
No, flowers aren't expensive only because they're for your wedding.
The idea of a "wedding tax" being put on florals simply isn't true. Flowers eat up a larger part of your budget because of the many hours put into them. Unlike for more basic events, brides tend to be very focused on complex details of their bouquets, leading to more hours for florists spent making them flawless. Between speaking with the bride, planning the florals, and actually executing the floral plan, florists can spend a ton of time bringing the bride's floral vision to life. If you think about it, you're really ordering custom art—and in most cases, multiple pieces.
DIY isn't as easy as it seems.
It's becoming more and more common or brides to put their own bouquets together or outsource to a friend. If that's your thing, great—but make sure you do the research ahead of time. Removing pollen, thorns, and other pointy stems is an absolute necessity, and it looks a lot easier than it actually is to create a pretty group of flowers.
Outdoor photos can be killer on bouquets.
If you're taking outdoor photos before your ceremony, limit the amount you pose with your flowers. The summer heat and winter chill can both be tough on flowers. Take a few portraits, then have a bridesmaid take your flowers back inside for a drink and some rest.
You should consider the environment.
Working with a florist that uses local gardeners means less gas and refrigeration used. Go as farm-to-table as possible. Bonus: organic flowers also tend to last longer!
Don't use overly scented florals.
Some flowers smell amazing, but that doesn't necessarily mean they're a great fit for your centerpieces. Scents highly impact our taste buds, and so if you have lilies of the valley, lilacs, or other highly-fragrant flowers in your centerpiece, it could negatively affect how your wedding meal tastes to friends and family. Also, smells are so individual—you never know if something that smells wonderful to you smells less-than-stellar to your guests.
Think about your photos and wedding day look.
Don't select flowers for your bouquet that will clash with your bridesmaid's dresses, even if you love them. If your venue is over-the-top and colorful, consider going simpler with the color scheme of your centerpieces. Thinking about your aesthetic as a whole will help you make better floral decisions.
Think outside the box.
Adding a personal touch, like a rosary or a piece of your mom's veil wrapped around your bouquet, is a super-simple way to bring even more meaning to your flowers. It's also easy to do—just don't forget to give your memento to your florist ahead of time. Some florists also love creating unique details like flowers for your cake or entrance arches for your reception. Ask your florist to show you photos of their favorite work they've created for weddings to get an idea of what they can do.
Trust your vendors.
Florists work with a natural product, which means they often need to stay flexible. If the flowers you ordered haven't quite bloomed or aren't as large as the florist would like, they may need to make substitutions to keep your florals looking perfect. Trust that your vendor has your best interests at heart and try not to be critical over your bouquet.
At the end of the day, your florist wants to work with you to make your wedding the day you've been dreaming of. But by keeping these tips in mind, you'll have fewer bumps in the road and smoother sailing to "I Do" surrounded by gorgeous florals.